Document Storage is a great way to free up space in your office. It allows you to hold onto documents you might not use frequently, but need to hold on to for retention purposes. Document storage companies allow you to access your files at any time, and there's even emergency retrieval services if you need a file that's stored offsite quickly.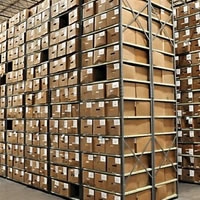 You're probably storing documents in your office right now- but that's usually not the best use of your rented office space. Offsite storage is a secure solution that saves you space and eliminates the need to hold onto long-term documents onsite.
If you're considering long-term offsite document storage, here are some things to think about before choosing a New York Document Storage Company.
Simplicity & Cost Savings in New York City
A document storage service saves you money, enhances productivity of employees who have to maintain the documents. Simplify your long-term document storage program or store all your files offsite to make things easier to manage over time.
Safeguarding of Records
The security and confidentiality of important records and files can be a serious issue- data breaches and low-tech hacks have compromised large companies and exposed employees and customers to identity theft. Offsite records facilities are designed to be secure- the offer security checkpoints, alarms, limited access, video camera surveillance and more to ensure your files are never touched by anyone but approved, screened professionals.
Access Control
Security and access control It is crucial to keep your files out of the wrong hands and away from prying eyes. Documents that contain personal or confidential information should be accessed by authorized personnel only. Secure records storage facilities only allow authorized persons to access and retrieve stored files, making it a viable solution for securing confidential files, personnel records, and important files related to your business.
Climate Maintained Document Storage Facilities in NYC
Our document storage facility provides temperature and humidity controlled storage for all types of document formats. Any type of media or file can be stored in a controlled environment without having to worry about degradation or destruction due to the environment- which you have little control over in your office. We can store a variety of items, including:
X-rays
Microfilm
Paper
Discs
Film
Magnetic tapes and more!
The facility also has a backup power source that insures the temperature and humidity are maintained even during a power outage.
Get Free, No Obligation Quotes on Record Storage Services in New York City Today
New York Scanning and Records provides secure document storage and document retrieval services for businesses throughout the City. To get free, no obligation quotes on long-term document storage, give us a call at (917) 338-1848 or request a FREE quote today.